Your Scotch Plains library card gives you free access to language learning resources, art and craft classes, test prep help, tutoring, technology training, and health/wellness information – all from the comfort of your home or anyplace with an internet connection!
Break out your library card, because you'll need the card number and your pin to access most of these sites. (Need help with your library account? Use this form or email [email protected].)
For a list of all our databases, including many not on this page, click here.
Learn a Language
Take a Class
Take courses in watercolor, embroidery, lettering, jewelry-making, cake-decorating, sketching portraits, ceramics, and many, many other things!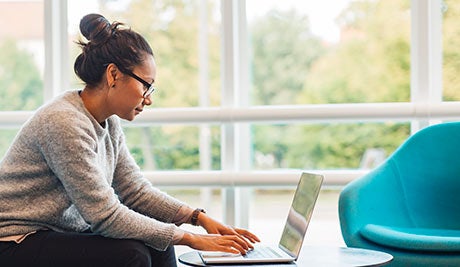 Basic computer maintenance and safety, all of the Microsoft Office programs, and Adobe Illustrator and Photoshop courses!
The Great Courses
Over 150 courses on so many topics: science, history, literature, arts, cooking, money management, travel, engineering, health… Access them through Kanopy.
Prepare for a Test
Find practice tests and tutorials to help you prepare for the ACT, PSAT, SAT, ASVAB, and AP exams. You can also find occupational exam help here.
Live Tutoring
One-on-one help from live, qualified tutors in 40 subjects including math, science, essay writing, foreign language, social studies, and test prep! You can even submit your essays for overnight feedback. 8am-10pm EST, 7 days a week.
Databases
Straightforward, non-judgmental, up-to-date answers to your health questions. They also accept health stories submitted by teens.
This interactive encyclopedia has answers to all of your money questions, big and small. If you want to understand the differences between capitalism and socialism, or if you just want to know how to choose a good first credit card, this is a great resource!
Don't let the not-so-beautiful interface fool you: this resource is impressively up-to-date. Brush up on your research skills and learn how to protect your personal information online.
The library subscribes to many more databases on everything from science to literature to history to business. If you have a research project or just a burning question, check out the full list!
Career Help
Explore occupations and search for local and national jobs and internships, or take a quiz to learn what occupations match your interests and abilities. Create professional resumes and cover letters and master interviewing skills.